Breath – Voice – Overtones
8 August 2021 | 17:00

-

15 August 2021 | 12:00

€840
8th – 15th of august 2021 in France with Borg Diem Groeneveld € 840
We start with breathing and sound meditation early in the morning. After breakfast we shall work on breathing and movement exercises in order to release our breathing and voice. Through the exercises you calm down and become reenergized once more. The afternoons are free. After dinner we sing sound poems, improvisations and melodies by the tanpoura. During this week you can take time for yourself and even distance yourself from everyday life.
For both beginners and advanced singers
The programme is equally suited to those who are beginners as well as to those who are of an advanced level; everyone receives the attention that they require; for beginners to gain confidence in their voice and for advanced persons to broaden their experience. For several years the summer weeks are European. Participants in the course shall mainly be Dutch and French. Borg shall give lessons in both languages. Therefore, you do not need to speak or understand any French. Music does not have any boundaries!
Singing Sounds
Each sound is composed of a base tone with overtones (harmonics). Due to the overtones we learn to play freely with the sound of our voice. In actual fact overtone singing does not have to be taught. In the course of the week you shall hear that overtones always accompany your singing. If you sing with more people then the voices strengthen each other and the overtones are even more distinct. Overtones bring us to another style of dealing with sounds and words. By means of practicing and improvising you shall discover new sounds and you shall develop more freedom with music. Thus, your own music results. We can enrich our possibilities by listening and reacting to each other.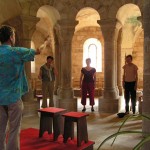 Excursion
Through the course of the week we shall visit several special Romanesque churches in the area in order to enjoy their beauty and acoustics. Here everyone can let his own voice and overtone resound!
Domaine St. Laurent
Domaine St. Laurent, a biological farm with 130 hectares of ground is situated at walking distance from Cluny in Burgundy. Cows and pigs are kept there and there is a large kitchen garden surrounded by wood and meadows. The main building accommodates approximately 20 persons. The complete building is equipped with its own kitchen, bathroom, a large workspace and a large veranda with a splendid view over the surrounding area.
INSTRUCTOR
Borg Diem Groeneveld is an overtone singer and voice therapist. He studied first overtone singing and improvisation from 1985 with Michael Vetter. Later he became engrossed in the 'breathexperience' of Ilse Middendorf with Franz-Peter Menge and Maria Höller. In the book 'Voice and Overtones', he describes a wide variety of meditations, exercises and improvisations for the voice (in Dutch). You can hear his own improvisations on three cds: Tovertonen-Overtones, Om&Om and For the auricle. As a teacher he is hosting trainings on "Breath, Voice and Overtones" and gives lessons to students at various colleges in the Netherlands. Speaking French and German, he gives worskhops in Belgium, France and Germany as well.
---
 Breath Voice Overtones
Practical Information
Dates
Sunday august 8th to Sunday august 15th 2021 inclusive
Times
Commences monday with dinner, concludes Sunday with breakfast
Arrival from 5 p.m., departure until 10 a.m.
Costs
€ 840, including meals and accommodation in double rooms
single room € 100 extra
double room with shower and toilet € 100 per person extra
Reduction
Staying overnight in your own tent – € 50 per person
Registering
By telephone +31725095520 or online registering and transferring € 95
Payment
Upon inscribing you pay € 95. The remaining sum is to be paid before 1st of July; if you inscribe after July 1st you have to pay the entire amount all at once.
Cancelling
Cancellation costs amount to € 95 until June 1st, € 200 from June 1st- July 1st, after july 1st the money cannot be refunded. You can take out a cancellation insurance for this with your own insurance company.
Transferral Details
IBAN: NL36INGB0004716967
BIC: INGBNL2A
in the name of STEMBALANS 1873 HS GROET, HOLLAND
TRAVEL AND ROUTE DESCRIPTION
At the beginning of July the course participants shall receive a written confirmation of participation with a route description and a list of the participants. Then you can get in touch with other participants to arrange to travel together by car or by TGV to Mâcon-Loché. Blablacar is a good medium of transport in France. Flixbus is very cheap but does not stop in the area.