About Borg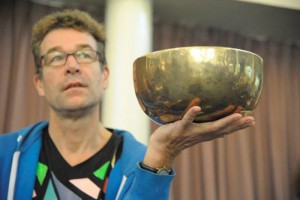 After having completed his studies at university, Borg Diem Groeneveld devoted himself entirely to music. He mastered various musical instruments and led a choir. In search of new horizons,
he attended a workshop by German overtone singer and Zen master Michael Vetter in 1985. Over the years, Vetter familiarised him with the technique of overtone singing and free improvisation.
In the interim, he spent two years studying as a school music teacher at the Hilversum Conservatory. He attended during several years breath courses taught by Franz-Peter Menge and studied the relationship between breath and the voice with Maria Höller (Atem- Tonus-Ton workshops). Both teachers were trained by Ilse Middendorf (The Experience of Breath).
In 2014 he became member of AFA, a german federation of breath therapists.